Meet the Innkeepers
About Frank and Terri and Whitebird Summit Ranch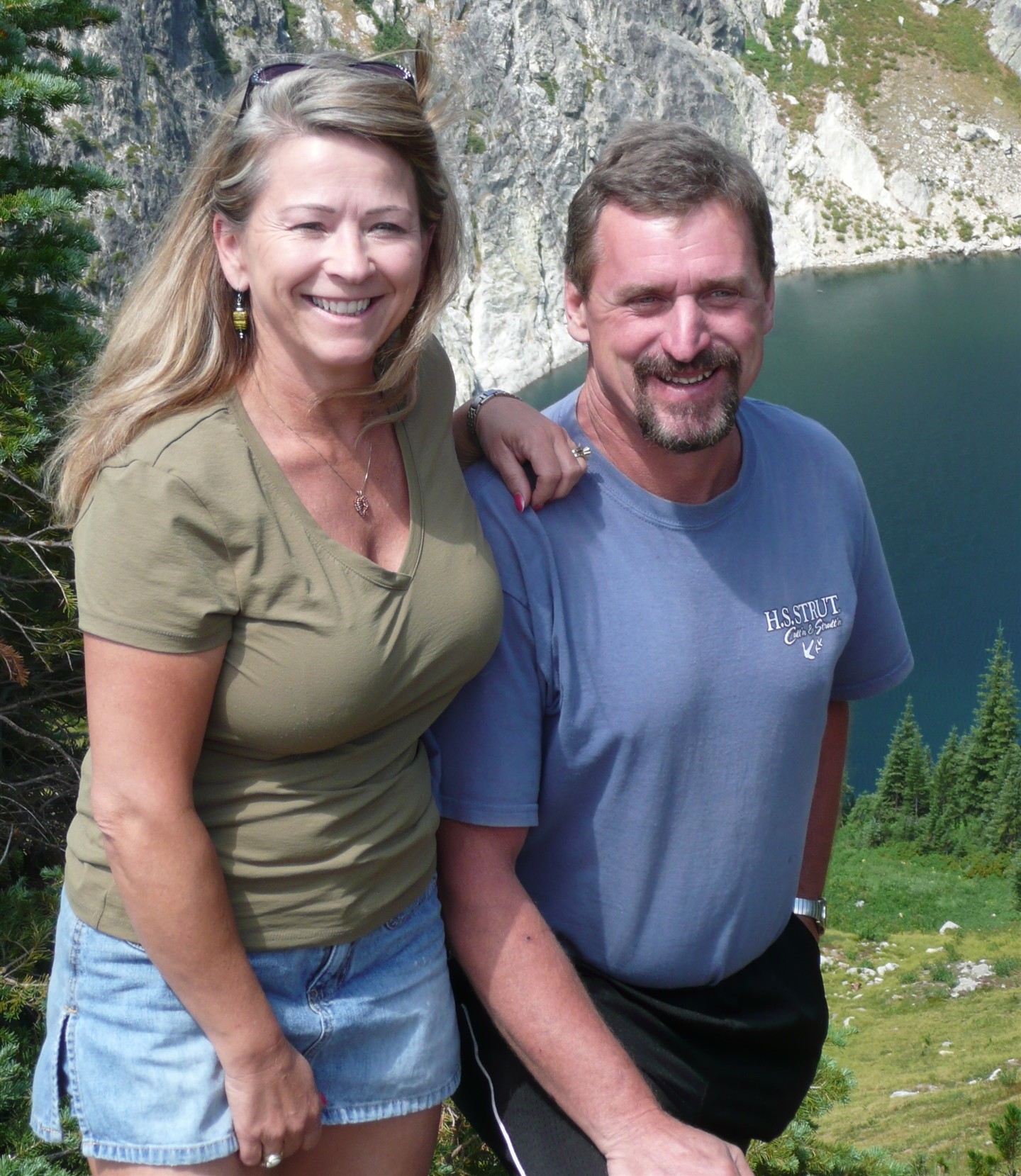 Frank and Terri came to Idaho to escape the craziness of everyday life in the large cities. Our lodge at the summit captures the great rural frontier. It is a place that evokes the spirit of the west and the values of our fore-fathers. New life - one of the great treasures we share with all! Idaho is one of America's last frontiers. Whitebird Summit is where we turn back the clock to a slower pace of life and let loved ones rediscover themselves. Each day begins with our guests and ourselves meeting at the breakfast table, as a family. With a chance to experience rural living, interact with our domestic stock- dogs, cats, horses, mules, goats and chickens and begin your new outdoor adventure.
---
Our Story
We want you to come and share our little piece of Heaven on Top of the World!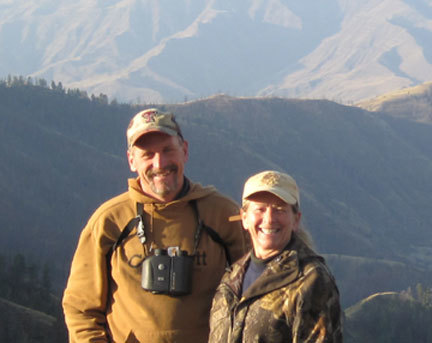 We came west for the mountains," say Frank and Terri Schmitz. The couple, originally from Wisconsin, now own and reside at the White Bird Summit Bed and Breakfast Lodge.
Open since 2000, the Lodge sits a mile east of Highway 95's White Bird Pass. At about 4,600 feet above sea level, the two-story structure affords the Schmitzs and their guests a breathtaking view of mountains -- and more mountains. Thirty or so years ago, before the current highway between Grangeville and White Bird was straightened and widened, a meandering Highway 95 ran right by where the Schmitzs now live. The lodge was then a residence, and a one-story building closer to the road served as a popular restaurant. Now the long-abandoned restaurant has become a tack room and a gift shop.And with hard work, Frank and Terri have transformed the residence into a spacious, well-appointed lodge.

We wanted to be different from the many Victorian bed and breakfasts across the country," Frank says. "We wanted a lodge setting that would give those who'd grown up in urban areas a chance to taste rural living." To that end, they've incorporated rustic, rural touches into the off-the-beaten-path accommodations. Frank's twenty years of building experience are in evidence throughout the remodeled and expanded structure.
The Great Room is filled with comfortable furniture, wildlife art and taxidermy displays. We have the largest taxidermy displays in North Central Idaho. Off one side of the room, French doors open to a spacious sun room with windows overlooking the canyon. One wall replicas a rock wall that includes a built in Fish tank. Bringing the outdoors indoors the wall fits right into the wildlife theme. This is another adventure of Frank and Terri's. The manufacture simulated rock panels for building these rock walls. Off of the other, entry to the Africa room offers an opportunity for quiet conversation or an evening nightcap at the hand crafted bar. Other amenities include an outdoor BBQ and bar garden. Lower level guestrooms – except for the Wisconsin Room that reflects the Schmitzs roots – sport names like 'World Travel ,' 'Buffalo Bill,' 'Mexican Fiesta' and 'Summit.' Three of the rooms have private patios. All have private baths. "Frank's had lots of fun with things like putting a stone shower stall with swinging half doors and a 'rainwater' shower head in the Buffalo Bill room," Terri says.
A split-level tiled kitchen and dining area – where full breakfasts are served – separate lower level guestrooms from the 'Bunkhouse.' This wing of the lodge offers a private entrance, cozy sitting area, two full baths and two large guest rooms. "The 'Chief' room and 'Warrior' room," Terri says, "are decorated to reflect Nez Perce Indian culture, will sleep five each and are ideal for families." Guests visit the lodge for the fresh mountain air, magnificent views, and the retreat from urban life. But most also arrive with specific recreation in mind. Hiking, mountain biking, horseback trail riding, fly fishing, whitewater rafting, jet boating snowmobiling, cross-country skiing, or hunting: the White Bird Summit Lodge offers them all.
In the trail riding department, Frank says, "We have 14 gentle horses for half-day, full day, and our famous BBQ trail rides with BBQ dinner and bon fire. And we work with some great whitewater outfitters to offer combination 'saddle and paddle' packages." That's where Terri's skills as a travel and airline agent come in. "I can make air line reservations, set up rafting or fishing charters. All sorts of combinations," she says with a travel agent's enthusiasm. "When guests get here and two of them want to go hiking, two want to go horseback riding and two want to go fishing or golfing – we've got the diversity to make all those things possible."
Terri has just published her first cook book "Cooking by Taste" you can order from Terri. Just email her to order.
Frank has written a book looking back on his life's hunting trips and his love and admiration for the animals. You can read a little bit about it and order directly from Frank. Click to read more.

"We're in the work place every day, whether it's in camp or at the lodge," Terri says. "Even if we have employees, we're there with them so we can control the service customers are paying for." Having traveled extensively and seen the best and the worst of accommodations and services, Frank and Terri say they're trying to reproduce the best of what they've experienced. But both agree that the basis for success is enjoying people.
Comparing this enterprise to his former contracting business, Frank says, "Either way you're working with people. But when building, they have all the pressures of financing and deadlines. And you've got the pressures of trying to get things done despite drawbacks like weather."
He speaks softly, his words laced with a hint of his Wisconsin past. "Here at the lodge it's relaxed," he explains. "People are laid back, away from the pressures of normal life and they're enjoying their vacations." For locals, the Schmitzs offer the lodge and its surroundings for outdoor wedding services. And Terri can cordinate a reception right down to the cake and flowers. "The lodge is still kind of secret right now," Frank says. "But as word gets out, we have many services we'd like to offer guests from close and far."
Call or Email Us for More Information
Breakfast on the Ranch
Breakfast for Our Guests, and the Ranch Animals
Whitebird Summit Adventures is offering Breakfast on the ranch with optional 1 hour horse trail rides. Make your reservation early - we will have very limited seating. We will be cooking up some of my famous treats for you on the outside patio. Summit French Toast with our home made orange sauce, biscuits and gravy, filled coffee cakes, fresh fruit, fresh eggs from our chickens, home made jams and much more.
We will have one seating open
10:00 am breakfast with optional hour trail rides
Seating will be limited and is by reservation only.
Call Terri 208-983-1802 TODAY!!!
We offer our breakfast on the ranch the months of July - August- September
Details:
Breakfast Adult 15 years and up $13.00
Breakfast Child 6 years to 15 years $8.00
Breakfast Child under 6 years of age FREE
Hourly Trail rides $25.00 per adult
Hourly Trail Ride $20.00 per child - 8 years to 15 years
Children 5-7 years short walk on the property $10.00
Call Terri today to make that reservation 208-983-1802
Watch us Feed the Ranch Animals!
Kids young and old love to experience the simple ranch living. With the many ranch animals to entertain them.
After breakfast enjoy visiting and feeding the many ranch animals we have. Meet Rosie, mom to two of our fainting goats that were born last April. Buddy our Fainting Billy goat. Penny and Babe our pot bellied pigs. Check out the Mouflon sheep and the Corsican sheep. Baby Corisan sheep. Watch our beautiful Peacocks display with pride their tails. Make sure to check out the exotic pheasants that look more like colorful parrots. Tom our grey turkey will gladly show our girls what he has to offer.
Feel free to bring fruit and vegetables to feed the ranch animals, or buy feed at the lodge.
Call or Email Us for More Information
Guest Reviews
Just had a wonderful time and a terrific experience. You made us feel very much at home. Thoughly enjoyed your company. Jim and Kathleen Harper, Worley ID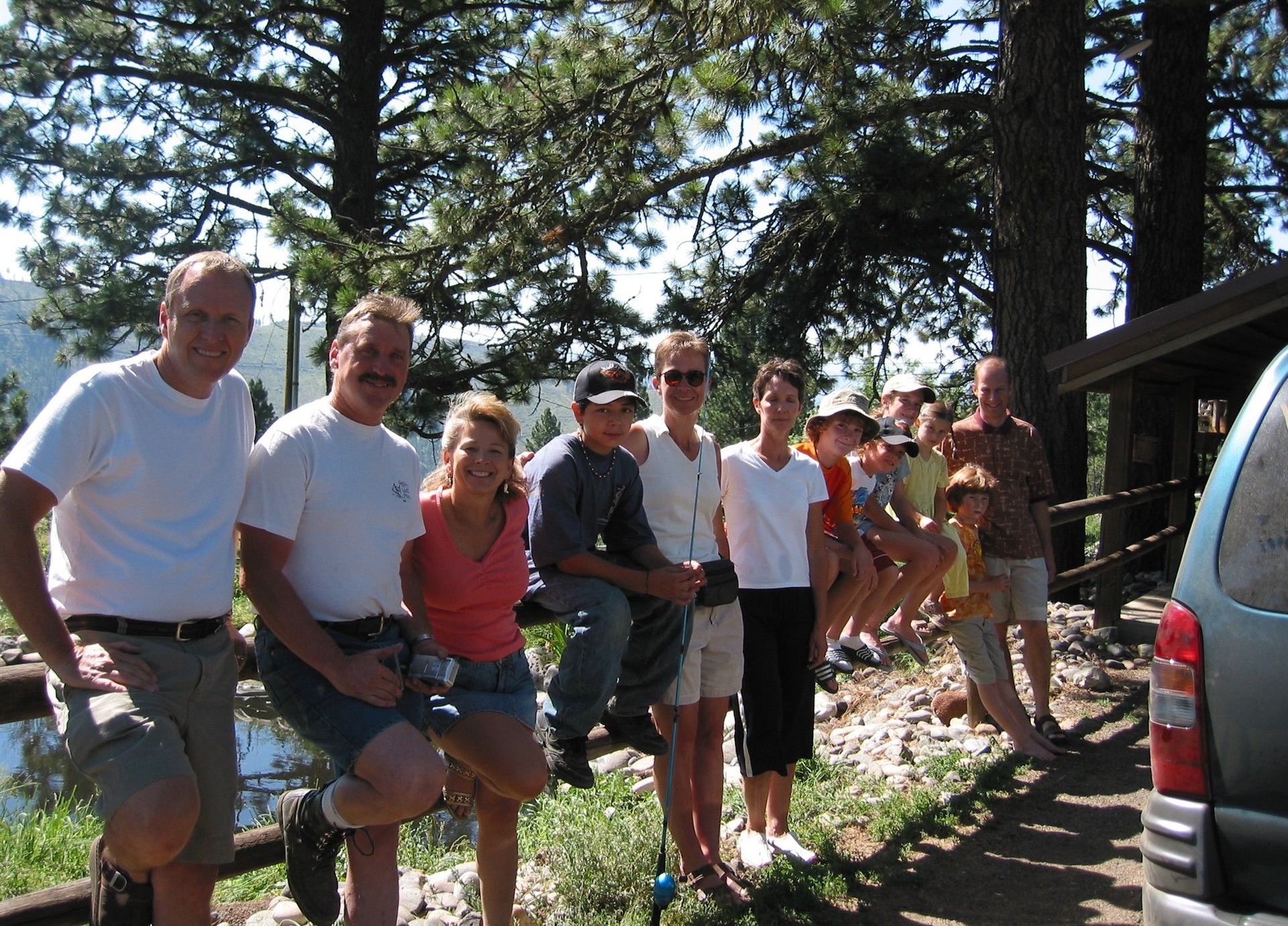 Wonderful experience and very relaxing. We enjoyed the food, ride and hospitality, but most of all Frank's sense of humor and Terri's cooking. Thanks for everything! The Nelson's - Mill Creek, WA
Just a wonderful stop in our travels. Frank you have an awesome showplace and Terri you made us feel so welcome and at Home. We most surely want to come again and take a ride with you. Taylor, Kaitlin, Dylan and Bill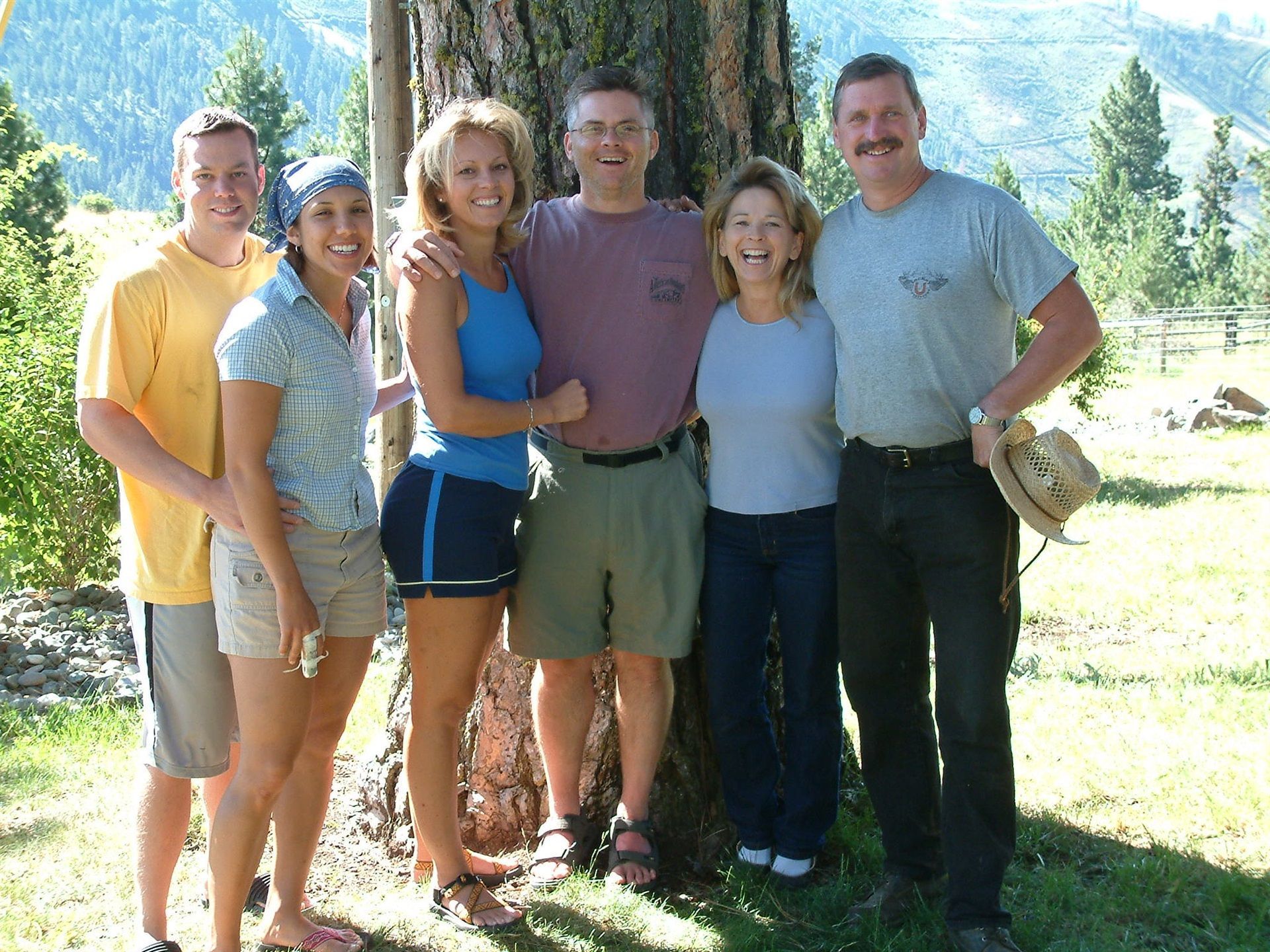 The Milton family had a wonderful time on our first visit to Idaho. We urbanites learned allot about the extraordinary outdoor world here and gained a true appreciation of this special part of the world. Thank you for your time and attention to every need. The food and fellowship are something we wont forget. When the Forest Service and Land Use issues arise we will think of you and share our new found knowledge with others.
Thank you Terry and Frank for a truly memorable riding experience. Your wonderful hospitality has been greatly appreciated making our holiday very special. Thanks for adapting our "package" to leave a very positive impression on our 6 and 7 year olds. We plan to be back an amazing contrast to Saudi Arabia. Bill and Sian - Dhahran Saudi Arabia
Our first time at a Bed and Breakfast - what a wonderful experience. Terri you are a great cook, breakfast every morning was delicious. The relaxed atmosphere your two create makes us all feel at home. Thank you Herb and Lorraine - Modesto CA
The trail ride into the Gilmore Ranch and the whole area was just majestic. We enjoyed every moment and every second of our time with you. Mri and Shay - Tel Aviv, Israel
We cant thank you enough for everything, not the least of which overfeeding us each morning. Now that we've found you, you'll definitely have to put us with us again soon. Robert and Laura - Newark Delaware
Thank you for making our 40th Anniversary very special and making my dream come true. Wishing you the very best life has to offer. The Muttons heads - Bob and Evelyn - Jacksonville FL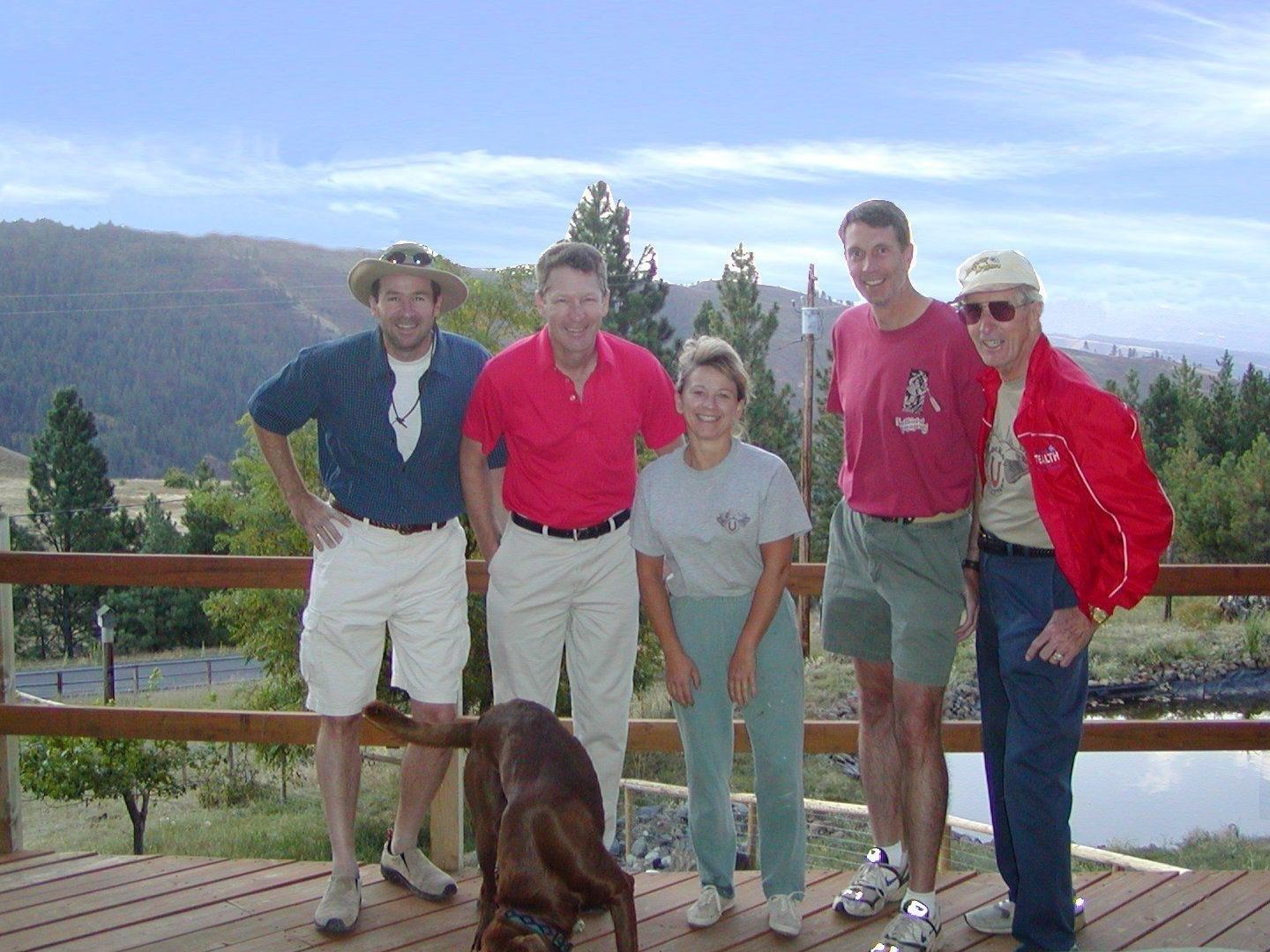 Elliot and I have had so much fun here at your terrific home I felt so pampered. The food, the cozy room, the attention and help with local attractions. I plan to return. Nathalie and Elliott - Newtown, CT
Thank you so much for your hospitality. Your house is great, breakfast wonderful and we love all your animals. We hope to see you again in a few years. Roland and Susanne - Stuttgart Germany
WE loved your place. Anna lover the horses, Patrick thought the foosball and fishing (2 fish on one line) as great, Jesper had a wonderful positive experience riding western and I loved introducing The west to my family. You have a beautiful place and fabulous hospitality. Jesper Wendy Patrick, Anna - Nedebo Denmark
Call or Email Us for More Information