Horse and Trail Riding
Whitebird Summit Adventures have over 30 horses , they are gentle and safe for all types of riders ages 8 to 80! Our rides will take you over the Nez Perce grounds where the US Calvary fought the Nez Perce Indians in the war of 1877. Back country trips can also be arranged to the Historic Gilmore Ranch - where time has stood still from the early 1900's. If you have a little one that is too young for one of our 1/2 day or full day rides we will be more than happy to give them a little ride around the yard. Bring your extra apples with our horses love them and it is a great way to make friends with one of the many horses on the ranch.
You might want to combine your stay with us and try your hand at white water rafting which provides a great opportunity to view the river looking up through the canyon you have just rode on top of. Saddle n Paddle packages our most popular vacation package!
Trail rides can be booked May through September.

Half day trail rides out of the lodge overlooking the Camas Prairie, the Gospel Hump Wilderness area and the Salmon River Valley. Ride through historic grounds and listen to Frank tell the story of the Nez Perce Indian War from 1877 while tracing the steps of Chief White Bird and Chief Joseph.
These rides depart at 9am pacific time and again at 1pm pacific time.
Half day rides cost $65.00 per person ages 15 years and older
Children rates 8 years to 14 years $58.50
Contact Terri for your reservation 208-983-1802
Full day trail rides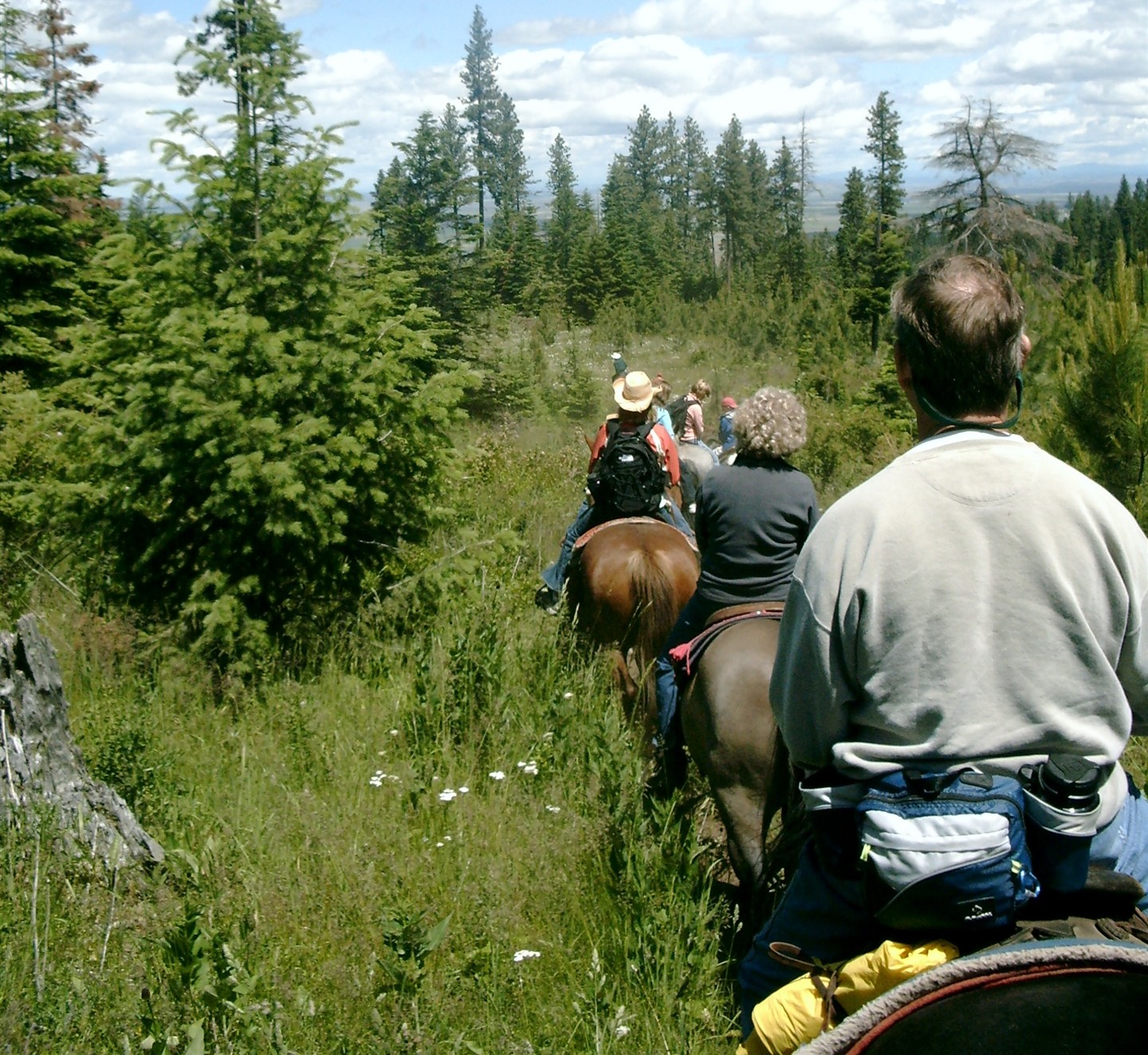 Enjoy majestic views of the canyons and sometimes a little bit of herding cows. On the full day rides enjoy a BBQ or a picnic lunch with breathtaking views of the canyon below. Ride through historic grounds and listen to Frank tell the story of the Nez Perce Indian War of 1877 while tracing the steps of Chief Joseph and Chief White Bird.
This ride departs at 9am Pacific time and returns around 4pm pacific time
Full day rides cost $125.00 per person age 15 years and older
Children rates 8 years to 14 years $108.00
Contact Terri for your reservation 208-983-1802
BBQ Dinner Ride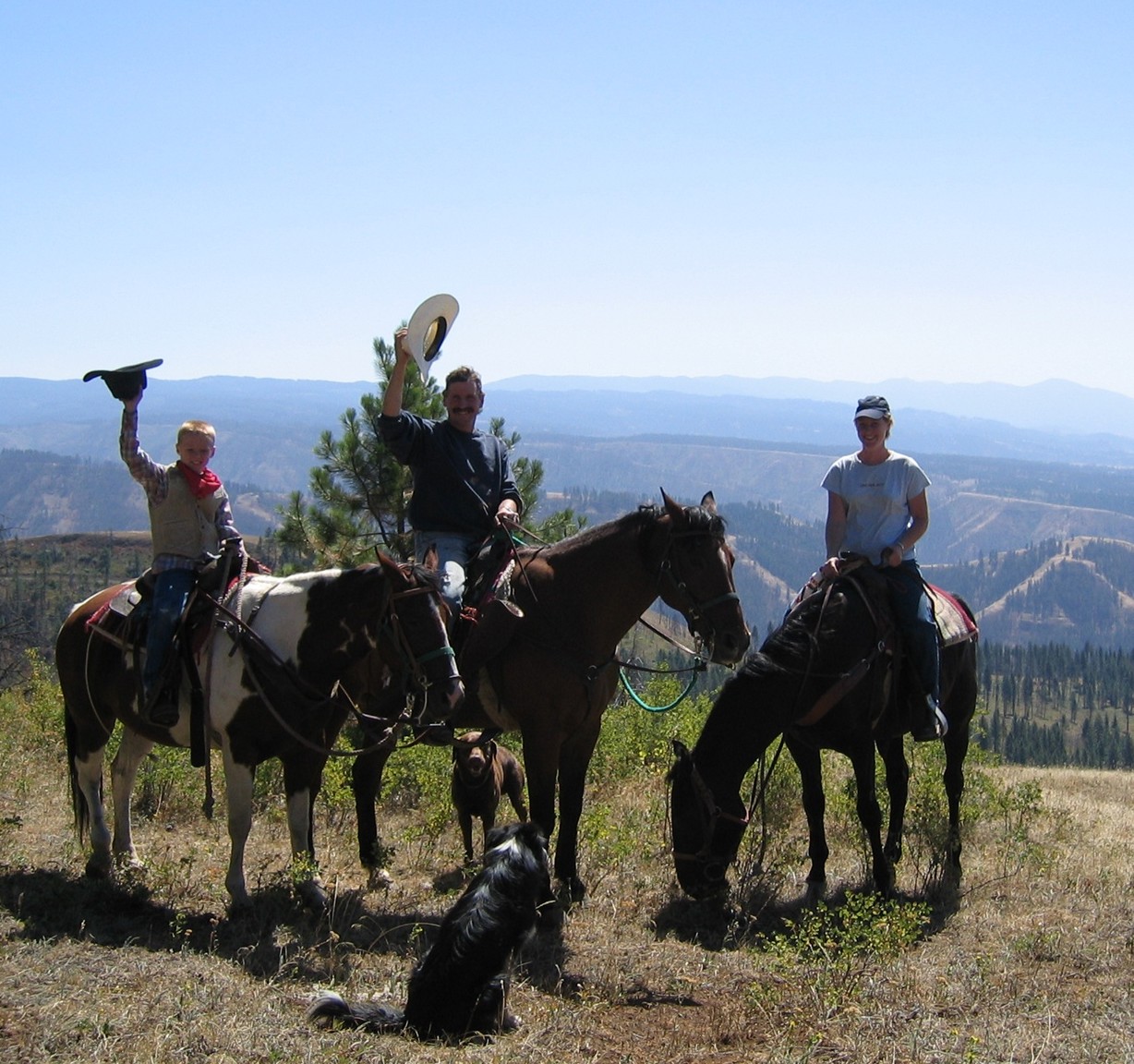 Whitebird Summit Adventures will take you on a 1 1/2 hour trail ride overlooking Whtie Bird Canyon and the Camas Prarie. Western barbecue under the stars. Grilled Chicken and BBQ ribs with all the fixin's -- green salad, baked potato, baked beans, corn on the cob, and beverages. For dessert, gather round the campfire for an old-fashioned marshmallow roast and s'mores. The menu may change from time to time.
BBQ dinner rides are customized to the booking and will begin between 4pm and 5pm pacific
BBQ dinner ride cost $75.00 per person ages 15 years and older
Child rates 8 years to 14 years $60.00
Contact Terri for your reservation 208-983-1802

Rafting, Horse Trail Rides, Jet boating, and Fishing activities are booked with permitted and licensed outfitters in the state of Idaho. Fees for rafting, jet boating and fishing activities are to be paid directly to the outfitter operating that trip. If you are paying by a credit card you will see the charges for activities separated and charged by the specific outfitter.
Contact Terri to make your reservations 208-983-1802
Breakfast on the Ranch
Whitebird Summit Adventures is offering Breakfast on the ranch with optional 1 hour horse trail rides. Make your reservation early - we will have very limited seating. We will be cooking up some of my famous treats for you on the outside patio. Summit French Toast with our home made orange sauce, biscuits and gravy, filled coffee cakes, fresh fruit, fresh eggs from our chickens, home made jams and much more.
Kids young and old love to experience the simple ranch living. With the many ranch animals to entertain them.
After breakfast enjoy visiting and feeding the many ranch animals we have. Meet Rosie, mom to two of our fainting goats that were born last April. Buddy our Fainting Billy goat. Penny and Babe our pot bellied pigs. Check out the Mouflon sheep and the Corsican sheep. Baby Corisan sheep. Watch our beautiful Peacocks display with pride their tails. Make sure to check out the exotic pheasants that look more like colorful parrots. Tom our grey turkey will gladly show our girls what he has to offer.
Feel free to bring fruit and vegetables to feed them or buy feed at the lodge.
We will have one seating open
10:00 am breakfast with optional hour trail rides
Seating will be limited and is by reservation only.
Call Terri 208-983-1802 TODAY!!!
We offer our breakfast on the ranch the months of July - August- September
Details:
Breakfast Adult 15 years and up $13.00
Breakfast Child 6 years to 15 years $8.00
Breakfast Child under 6 years of age FREE
Hourly Trail rides $25.00 per adult
Hourly Trail Ride $20.00 per child - 8 years to 15 years
Children 5-7 years short walk on the property $10.00
Call Terri today to make that reservation 208-983-1802
Whitewater Rafting
While in Idaho white water rafting should be on your list of vacation adventures. We can provide your family and friends a deluxe Idaho whitewater rafting vacation. Our river rafting trips offer families, first-time and experienced whitewater rafting enthusiasts a variety of adventure opportunities. We invite you to join us on the Salmon River "The River of No Return", and in Hells Canyon, the deepest gorge in North America on the Snake River for fun, adventure and good times. Enjoy the hot summer days whitewater rafting and camping on some of the most beautiful beaches anywhere. We would love to share the Salmon and Snake Rivers with you whether you are looking for a big fish, big whitewater or just a rafting trip the whole family will enjoy. We will try to give you the river rafting vacation you deserve. Our family white water vacations are designed around fun activities for kids at camp and safety on the river, ensuring a great time for everyone. More than just a whitewater rafting trip with wildlife, breathtaking scenery, hiking, hot springs, beach games, swimming, sun bathing or just relaxing in the shade reading a book. We can make your adventure exciting and fun but still have time to relax on our beautiful beaches. Safety is a high priority on any of the Idaho rafting trips. All guides will also educate and entertain you with information about river running and give you a great appreciation for the area and its history.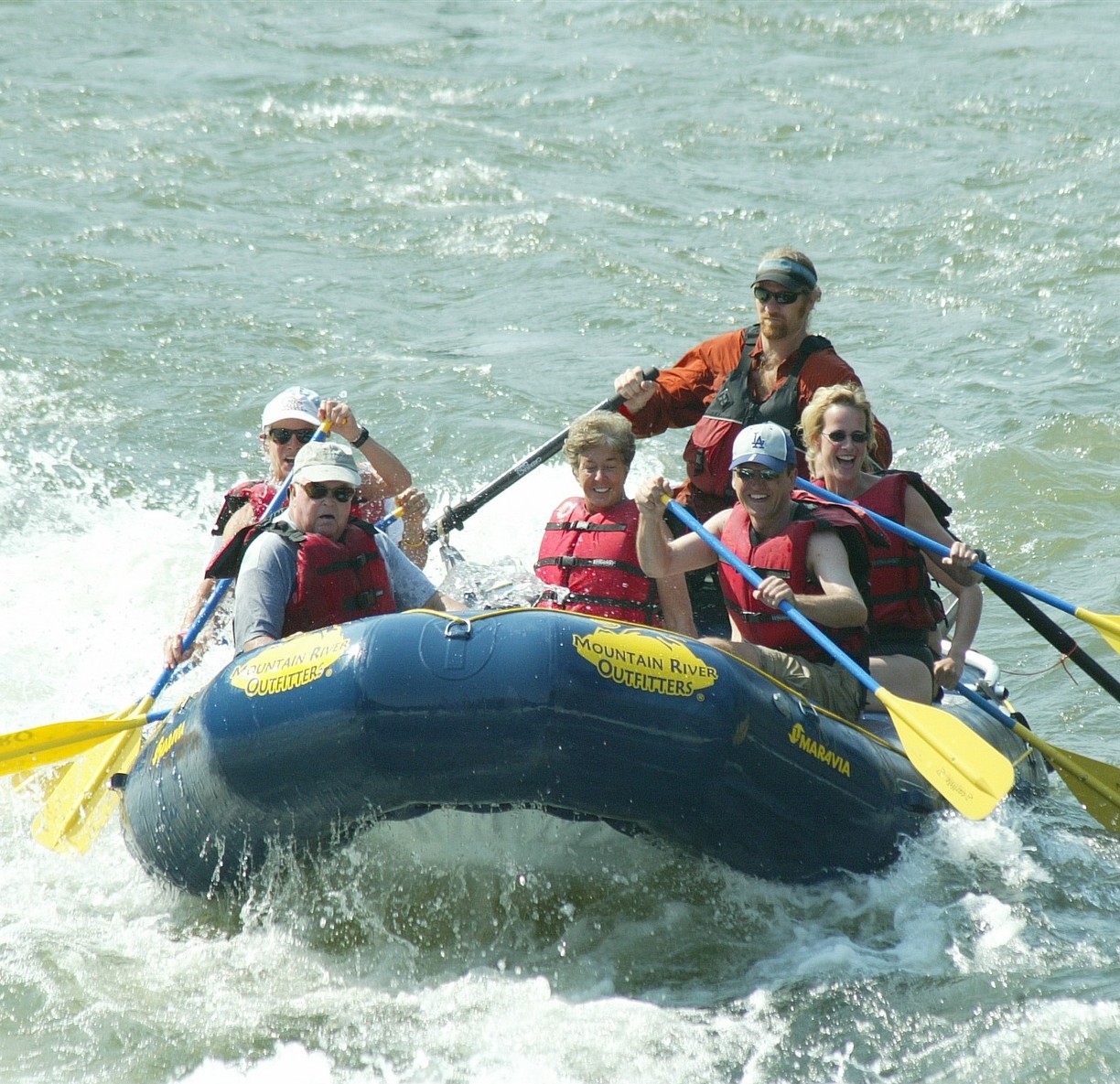 The Main Salmon River is the largest un-dammed river in the lower 48 states. The nature of a free flowing river gives the Salmon River an abundance of pristine white sand beaches, affording the highest quality camping of any river trip we know. The Main Salmon River has cut its way through thousands of feet of geologic history over millions of years. You'll pass through steep granite and metamorphosed volcanic gorges which will open to roomier columnar basalt formations that will mystify anyone. The diverse landscapes provide habitat to an equally diverse collection of animal and plant life, including deer, golden eagles, bighorn sheep, river otter, cougar, and bears all common on Salmon River rafting trip. We pass by crossings used by Chief Joseph and the Nez Perce Indians in their flight from the U.S. Calvary in 1877. We will also visit Chinese pit dwellings, abandoned homesteads, and old mining claims. A river trip just wouldn't be complete without the campfire and retelling the adventures of the day while enjoying marshmallows and s'mores.
Everything about a Hells Canyon rafting trip and the Snake River running through it is Big. Big whitewater, Big waves, Big fish, and Big breathtaking views of the Wilderness Area of North America's deepest canyon. Hells Canyon not only offers whitewater rafting but also great hiking and photo opportunities with maintained trail systems throughout including many of the side canyons. Pictographs left by the Nez Perce Indians are abundant along with the many historical cabins left by the early pioneers. On a Hells Canyon raft trip you might see Big Horn Sheep, Elk, Bear, Mountain Goat, Deer, Eagles and more. Did we mention fishing, the Snake River through Hell's Canyon boasts some of the best fishing found anywhere, with Sturgeon, Bass and Trout fishing. This is truly paradise for the adventurous sportsman with Sturgeon averaging 6 to 8 feet, Small Mouth Bass virtually every few minutes and Rainbows for the fly fisherman. Guests can enjoy paddling together in a paddle raft or oar boat where your guide will safely get you through the whitewater and allow you to fish, photograph, sun bathe, bird watch or just relax between the rapids. We also have inflatable kayaks available by request if your really looking for an adrenalin rush. Because we use a large supply raft our camps are set by the time you get there, prepare to be pampered with our deluxe backcountry accomodations.
River Rafting Information
All rivers are rated on a "class" scale to help you determine the hazards associated with the whitewater on each river trip. Many of our guests are in search of moderate whitewater where you not only feel the excitement of the rapids but also relax and soak up the beauty of the wilderness. Others are looking for a more intense whitewater experience. Regardless of your choice, be assured that our river outfitters have the best safety records in the industry. Note that the "class" scale was introduced after the rapids in Grand Canyon had already been rated therefore the Grand Canyon is rated on the older "1-10" system. A size 10 rapid in Grand Canyon would be a class V rapid, and so on.
Whitewater Class I - VI Rating Scale:
Class I Fast moving water with uniform waves that tug at the boat. No obstacles with very little need for manuevering. Each of our trips have some stretches of calm class I water, creating a pleasant break between larger rapids.
Class II Large uniform waves and or drops that are easy to navigate with little manuevering. Some obstacles in wide channels that can be discovered without scouting. Some big splashes of water are common, lots of fun, little danger.
Class III Large powerful rapids with irregular waves and narrow passages that makes the boat shimmy and sends hearts racing. Large amounts of water in your face with plenty of excitement and thrill with some avoidable danger. Aviodance of obstacles and manuevering required, scouting advised.
Class IV Long, difficult rapids, narrow passages with large drops, turbulent water that requires precise maneuvering in the rapid. Large obstacles and danger for swimmers, requires skilled guides and scouting.
Class V At the limits of navigation, that requires precise manuevering, large whirlpools and undertoes. Should only be attempted by highly adventurous and in shape experienced river runners. Very dangerous, deliver's a large adrenaline rush.
Class VI Beyond the limits of navigation, serious threat to life. Only the most expert should attempt this. Commercial raft trips don't go here. There's too much other water to enjoy.
When is the best time to go White Water Rafting in Idaho
Spring time rafting May through June has it's wildflowers and higher water flows for exciting whitewater and more time for hiking. Although temperatures during the day are warm the nights can be chilly and the water temperatures cool. Most of the rafting companies provides wetsuits and splash gear for all of the spring trips. Most of our river trips are uncrowded wilderness areas but these early trips are ussually smaller groups and less busy overall.
July and August are the most predictable with hot sunny days with little humidity or bugs. The whitewater is good and the water temperatures are warm. On the Salmon River the beaches get bigger as the water flows fall.
September is uncrowded and offers some of the mildest weather, although water temps can start to fall and the nights will be a bit cooler. Lower water flows ussually make for better fishing and a slower paced trip.
White Water Rafting River Trip Ratings:
Main Salmon River 5 day wilderness trip .... Class III
Snake River "Hells Canyon" trip .... Class III to IV
Lower Salmon River "Canyons" trip .... Class III
Owyhee River trip .... Class III
2 Day Salmon River overnight trip .... Class III
Salmon River 1/2 and Full Day trips .... Class III to IV
Rafting, Horse Trail riding, Jet boating, and Fishing activities are booked with permitted and licensed outfitters in the state of Idaho. Fees for rafting, jet boating and fishing activities are to be paid directly to the outfitter operating that trip. If you are paying by a credit card you will see the charges for activities separated and charged by the specific outfitter.
Beaches
Skookumchuck Recreation Site
Skooumchuck is a great place to spend a day by the river on a hot day. It is minutes from the Whitebird Summit Lodge and has a great picnic along the Lower Salmon River. The beach is large and picnic tables are in a grassy area above the river. The picnic area also has grills for public use. Black berry bushes are a real treat in August. This BLM Recreation Site is along Hwy. 95 between Riggins and White Bird. There are restrooms and drinking water. Pets are allowed at this day-use area.
It is also a great fihsing spot for those who are looking to catch some bass fish. Remember to ask Terri to use the beach umbrellas, and take lots of water when you head down to the beach for the day. The sun is warm and there is lots of it!
We have white sandy beaches along the Salmon River, the Snake River and the Southfork of the Clearwater river. All within minutes from the lodge. Great picnic areas along all the rivers and some of the most scenic waterways in the world. Shore line fishing can be done along all these rivers. Tubing down the Clearwater river always shows to be a fun time.
The Southfork of the Clearwater River is located outside Grangeville along Highway 14 on a scenic drive to Elk city.
Jet Boats
Snake River Tours
The Snake River is a major river in the greater Pacific Northwest in the United States. It is the largest and longest tributary of the Columbia River, which is the largest North American river that empties into the Pacific Ocean
You will jet boat through the Wild River Section and the Natural Wilderness Preserve area. This tour takes you safely up stream in our comfortable, through all the big whitewater rapids, through the deepest most rugged part of Hells Canyon, all the way to the Dam and Visitor Center.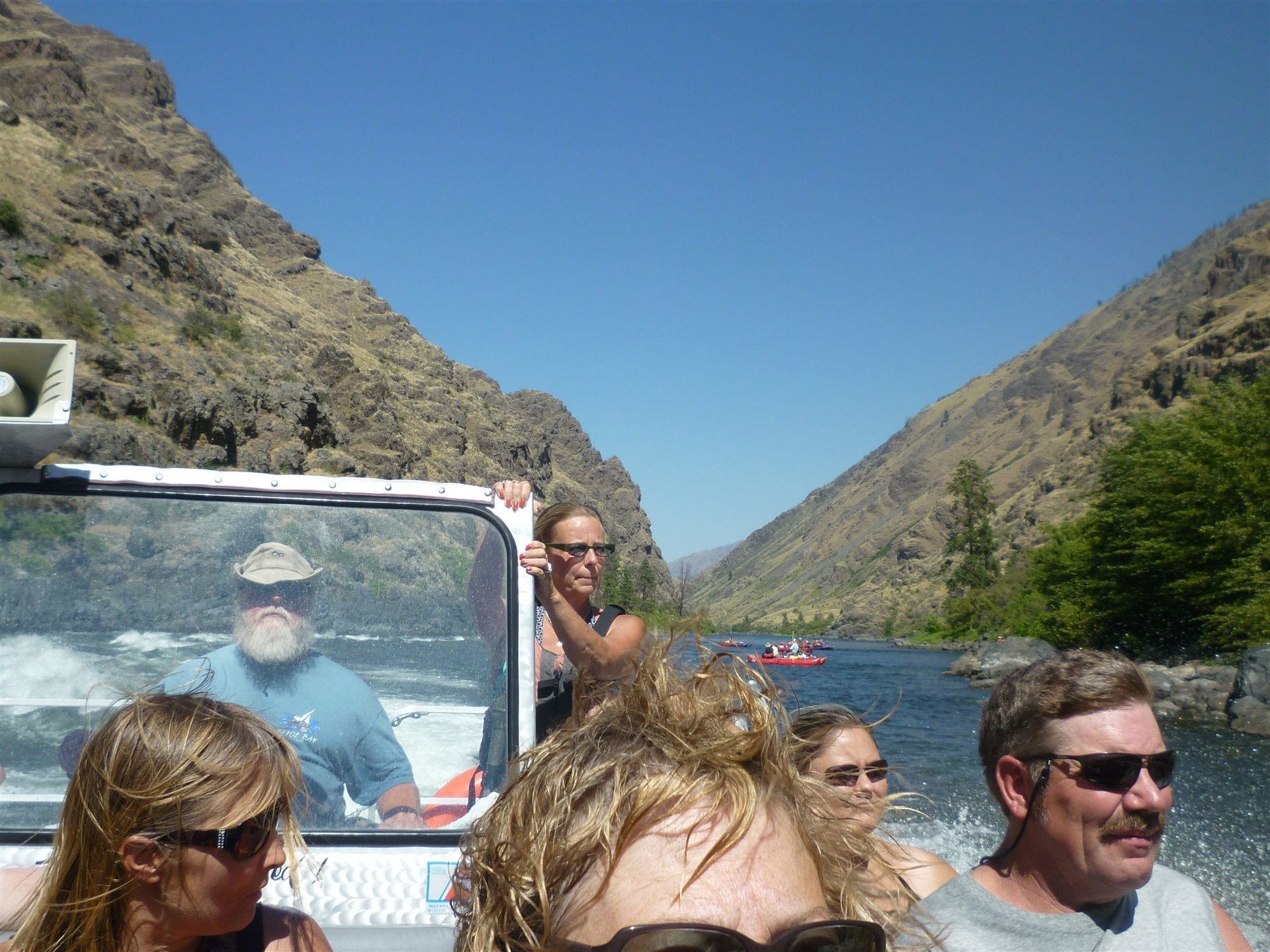 We can book your jet boat tour on the Snake River in conjunction with your lodging here at the Whitebird Summit lodge. We are located minutes from the entrance to Pittsburg Landing your docking post for your jet boat tour on the Snake River.
The 6 hour Wild River Tour you will see the best of Hells Canyon. You will jet boat through the Wild River Section and the Natural Wilderness Preserve area. This tour takes you safely up stream in our comfortable, not crowded Bentz Jet Boats – through all the big whitewater rapids, through the deepest most rugged part of Hells Canyon, all the way to the Dam and Visitor Center.
Stops include Kirkwood Historical Ranch Museum, Sheep Creek Cabin or Bernard Creek & McGaffee cabin and the Indian Petroglyph writings, with lunch at Dam Visitor Center. Wildlife sightings include Big Horn Sheep, Bear, Deer, Elk, Bald Eagles, Otters, Cougar. You will enjoy the exotic rock formations, and spectacular scenery in the Canyon. We usually stop at a sandy beach for wading or a swim in the 70′s degree water. This tour includes lunch, beverages, water and an unforgettable day of fun.
Guests will be riding in a custom 36 foot triple engine or our 28 foot twin engine. Most all seats are window seats in the 36 foot jet boat and all seats in the 28 foot jet boat are window seats. Tours will not be crowded.
The tours are provided from May through October. The Wild River Tour starts at 10:00 am and returns to the dock at 4:00 pm for the months of June through August. (Water is usually warm enough to swim)
Other tours are available on the Snake River. Ask Terri about them.
Call Terri today to boat your river experience 208-983-1802
Salmon River Jet Boat Tours
You'll head upriver into the Frank Church Wilderness Area through exciting rapids, passing old gold mines, Chinese-built rock houses, and wildlife such as bighorn sheep, deer, elk, bear, and eagles.
The first stop will be at the Polly Bemis Ranch. Polly was an early settler in this rugged country, where she lived and thrived for many years. After a visit to her home, now a museum, (and a restroom break) you'll be back on the water, and off to the James Ranch. Once there, you'll enjoy your lunch on a great beach just perfect for swimming, gold panning, or just relaxing in the sun. Fishing is also possible for those with the desire (and a license). After a good break, it's back on the water and off to the confluence of the South Fork of the Salmon River. With enough water, your trip will continue on to the Buckskin Bill Homestead and Museum. Buckskin Bill was a long-time Salmon River resident who carved out his life with unique style and skill. He was a true mountain man and you will be amazed by examples of his handiwork. After an unforgettable day, you'll head back downriver to the mornings launch site. Our Salmon River tour will take you through some of the most beautiful scenery in the country, and will provide memories that will last a lifetime.
We offer special lodging rates here at the Whitebird Summit Lodge with your full jet boat tour on the Salmon River.
Call Terri today to boat your river experience 208-983-1802
We work with license and bonded river outfitters all licensed for the state of Idaho and can assist you in making your plans for your tour. After all who knows the river outfitters better then the people that live here.

Horse Trail rides, Rafting, Jet boating, and Fishing activities are booked with permitted and licensed outfitters in the state of Idaho. Fees for rafting, jet boating and fishing activities are to be paid directly to the outfitter operating that trip. If you are paying by a credit card you will see the charges for activities separated and charged by the specific outfitter.
Rafting, Jet boating, and Fishing activities are booked with permitted and licensed outfitters in the state of Idaho. Fees for rafting, jet boating and fishing activities are to be paid directly to the outfitter operating that trip. If you are paying by a credit card you will see the charges for activities separated and charged by the specific outfitter.
Hiking
Pittsburg Landng near White Bird provides a great hike. The Snake River National Recreation Trail # 102 is 26 miles long going upriver, best in May, June and July or fall, takes you up the river to the Historic Kirkwood Ranch after just 6 miles. Just a short hike along the Snake River gives you a majestic view of Hells Canyon. A moderate hike great for kids of all ages. About 1 mile into the hike you will find a flat area where the kids can put their feet in the water and search for their favorite stone from Hells Canyon.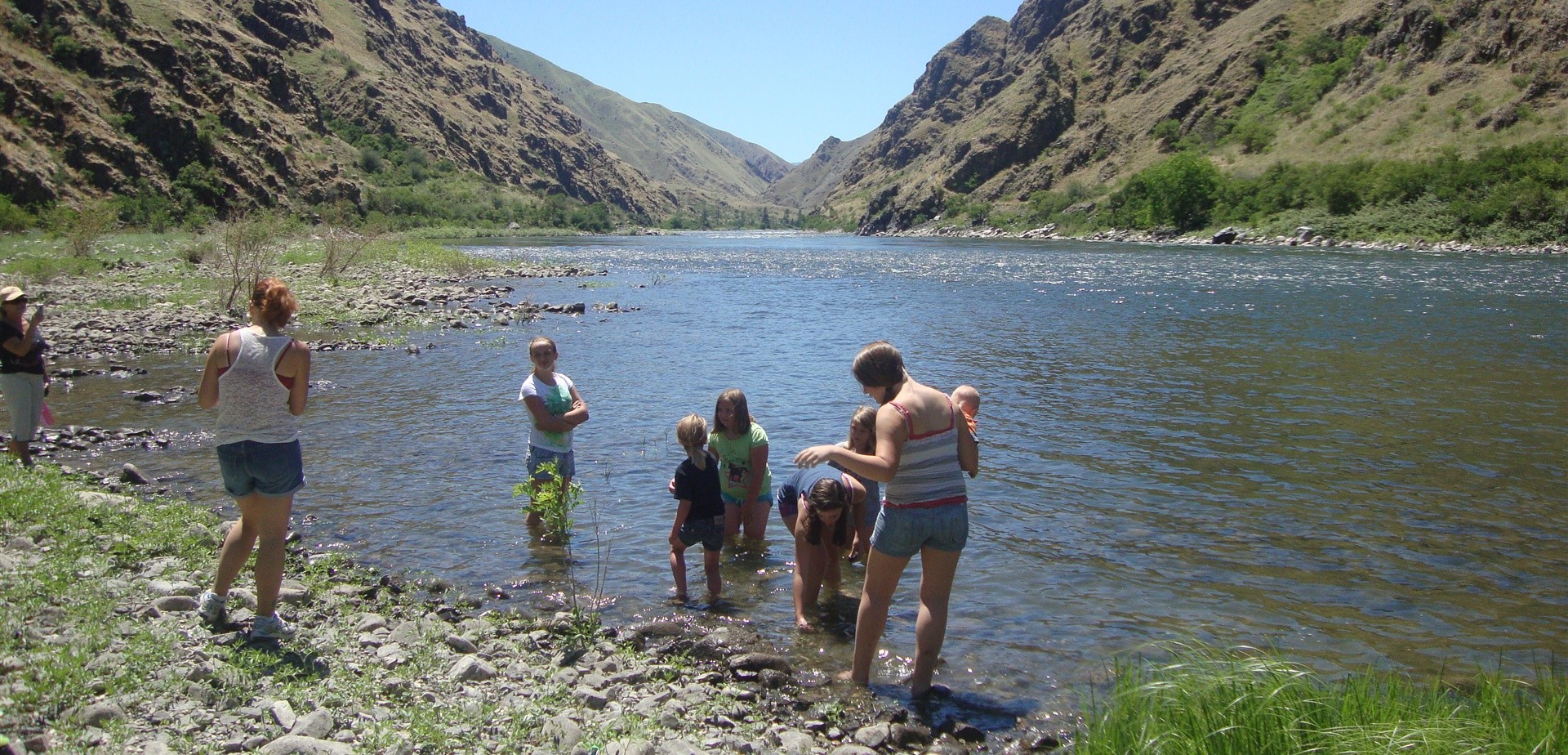 This landing also provides a boat launch ramp into Hells Canyon, the deepest river gorge in North America and access to the 652,488 acres of Hells Canyon National Recreation Area. A campground, restrooms and trail head complete the site. The gravel road from Hwy. 95 to Pittsburg Landing is narrow and winding but is frequently maintained. It offers spectacular views into the Hells Canyon National Recreation Area.
More Pittsburg Landing and hiking info:
Description: Pittsburg Landing is located deep in Hells Canyon near the mouth of Kurry Creek along the Snake River. At a much elevation than surrounding areas, the lower canyon of the Snake River in Hells Canyon is topographically isolated and is relatively warmer and often snow free during the winter. It supports several endemic plants as well as many others disjunct from more southerly latitudes. Hells Canyon holds some the largest contiguous bunchgrass communities in the Intermountain West. The slopes support vast stands of bluebunch wheatgrass (Pseudoreigneria spicata) and Idaho fescue (Festuca idahoensis). Smaller communities of warm-season grasses, such as red three-awn (Aristida longiseta) and sand dropseed (Sporobolus cryptandrus) are also prevalent. Notable are vast communities of prickly pear cactus (Opuntia polyacantha) amid sparse stands of bluebunch wheatgrass.
Viewing Information: Pittsburg Landing is a good destination for people looking for signs of spring early in the year. During March, yellow bells (Fritillaria pudica) dot the grasslands. These are quickly followed by wild onions (Allium spp.), Douglas' Brodiaea (Brodiaea douglasii), and desert parsleys (Lomatium spp). From late April through May one can find the endemic and showy Snake River phlox (Phlox colubrina), fuzzy-tongue penstemon (Penstemon eriantherus), native thistles (Cirsium undulatum, Cirsium utahense), locoweeds (Astragalus spp.), clustered broomrape (Orobanche fasciculata), hoary aster (Chrysopsis villosa), shaggy fleabane (Erigeron pumilus), paintbrushes (Castilleja spp), white-stemmed Frasera (Frasera albicaulis) and blanket flower (Gaillardia aristata). The prickly pear bloom peaks early June as it accentuates grassy slopes with yellow to magenta colored flowers. Near the Pittsburg saddle dependable displays of the Venus penstemon (Penstemon venustus) are seen. A wildfire that burned through this area in 2007 has stimulated abundant wildflower displays that should continue for the next several years.
Safety First: Be prepared in spring, summer and autumn for rapid changes in weather as thunderstorms may develop rapidly. Western diamondback rattlesnakes may occasionally be present so please stay alert. The western diamondback rattlesnake is not aggressive but will defend itself if stepped on or threatened at close range. Keep a watchful eye as you walk and you should not have any problems. The gravel road descending to Pittsburg Landing is narrow and very winding above; keep your eye on the road and watch your speed. Please use the pullouts if you wish to photograph the panoramic view or wildflowers. Summer temperatures can be high, easily exceeding 100º F. Carry water, bring plenty of sunscreen and wear a ventilated brimmed hat. Western poison ivy (Toxicodendron rydbergii) is common along streams and in dense patches on lower slopes; remember leaves of three let it be.
Directions: From Idaho highway 95, drive about 20 miles south from Grangeville (or 30 miles north from Riggins) to the small community of Whitebird. From here, take Idaho county road 493 about 15 miles to the saddle between the Salmon and Snake Rivers. As you descend the saddle 5 miles to Pittsburg Landing, many opportunities exist along the road for wildflower viewing. At the landing there is a campground and boatlaunch. Water is available from Memorial Day through Labor Day. At the Upper Landing, trail #102 runs along the Snake River south 27 miles to Granite Creek. About 1 mile before the campground, two very primitive spur roads (4-wheel drive recommended) run north. These are suitable for walking as traffic is usually absent.
Seven Devils Look Out
Another great place to hike is in the Seven Devils. One of the more spectacular lookout sites is Heavens Gate on the Idaho-Oregon border. It's located at an elevation of 8400 feet and has striking views of Hells Canyon, the Seven Devils Mountains, and other peaks in the area. Current Heavens Gate lookout Michael Oliver enjoys his job with a view. He's happy to still be part of a firefighting team and also feels lookouts still have a valuable role to play today.The Seven Devils are notable peaks in west central Idaho in the Hells Canyon Wilderness.[1] They are above the east bank of the Snake River, which forms the Idaho-Oregon border. The mountains are part of the Rocky Mountains, and the tallest peaks are 7900 vertical feet (2408 m) above the adjacent Snake River, with few trees in between. There are several marked and unmarked trails and cleared camping areas throughout the mountains. It has several water falls and streams as well as numerous lakes.
Immediately southwest of Riggins, the Seven Devils are accessible from U.S. Highway 95 by a gravel road which climbs over 5000 vertical feet in 17 miles.
Description: The rocky alpine peaks of the Seven Devils climb skyward from the Snake River to over 9,400 feet and are often snow-capped in July. They provide excellent habitat for mountain goats, best viewed from July to September. Heavens Gate lookout offers an incredible view of portions of Washington, Oregon, Idaho, and Montana. Several hiking trails lead to over 90 alpine lakes.
Viewing Information: The open subalpine forests and high elevation grasslands offer spectacular wildflower blooms in July with lupine, phlox, penstemon, buckwheat, stonecrop, Indian paintbrush and phacelia to name a few. On the drive up, watch for elk, white-tailed deer, and ruffed and blue grouse. Also, watch for golden eagle, yellow-bellied marmot, Columbian ground squirrel, pika, and the tracks of black bear and coyote.
Safety First: Always be prepared for inclement weather. Bring appropriate clothing and footwear. Bring water on hikes.
Directions: From Riggins, Idaho, head south on US 95 for 0.75 miles. Turn right onto Forest Road 517 and go 17 miles to the Seven Devils Campground (just west of Windy Saddle Campground). From the parking lot, scan the cliffs for mountain goats. Heaven's Gate Lookout is 1.25 miles further down road 517. The open slopes in the vicinity of Windy Saddle to Heaven's Gate as well as the trail to the lookout support the best wildflower viewing. Maps of the area are available at the USFS office, which is well signed from the highway to the south of Riggins.
Ownership and Management: U.S. Forest Service: Administered by the Wallowa-Whitman National Forest in Oregon (Pacific Northwest Region). Site located in Idaho on the Nez Perce National Forest within the Hells Canyon National Recreation Area, (202) 628-3916.
Fish Creek Trail outside Grangeville Idaho
Fish Creek Loop substitutes as a hiking and biking trail in the summer and a nicely groomed cross country or showshoe trail by winter. A more beautiful scenic trail, you will not find. The Gospel Humps can be seen in the distance as the trail meanders through a lovely forest of pines, firs and even huckleberry bushes. 3 mile, 5 mile and 7 mile loops are available and posted along the trail, for varying levels of conditioning and endurance.
Fish Creek is only 7 miles outside of Grangeville and is easily accessed with plenty of parking at the entrance to the loop. . If you want a killer workout, leave your vehicle at home, bring plenty of water and a snack, and hop on your bike for a meandering, paved mountain road that winds up at the Fish Creek loop. Your legs will be super pumped if you make it to Fish Creek Meadows. There is a covered pavilion where you can rest and the continue on to the Fish Creek loop. A large sign stands at the entrance showing the map and the various loops along the trail levels of conditioning and endurance.
Fish Creek is only 7 miles outside of Grangeville and is easily accessed with plenty of parking at the entrance to the loop. . If you want a killer workout, leave your vehicle at home, bring plenty of water and a snack, and hop on your bike for a meandering, paved mountain road that winds up at the Fish Creek loop. Your legs will be super pumped if you make it to Fish Creek Meadows. There is a covered pavilion where you can rest and the continue on to the Fish Creek loop. A large sign stands at the entrance showing the map and the various loops along the trail.
Fish Creek is so pristine, you're likely to run into the casual observer along the way who might be sampling a few huckleberry bushes or drinking from one of the streams winding through the forest, or just standing in the shade to get a few winks of rest. These characters are fully costumed and appear in the shape of a moose, a bear, a whitetail deer, or possibly an elk. You might catch a glimpse of a coyote or even a wolf too, so it would be prudent to keep a can of bear mace or some deterrent with you at all times, especially if you're biking alone.
If you've never visited Fish Creek Meadows before, you're missing a splendid slice of heaven in the Nez Perce National Forest. Try it and see. You'll want to come back time after time
Nez Perce Indain Chief Joseph
The Nez Perces belonged in what is now the State of Idaho, and the greater part of the tribe remained on reservations in that Territory. A few years ago several thousands were flourishing in the northern part of the Territory, having farms, schools, and churches. Other accounts make them out as debased by drink and the vices of white adventurers. A minority of the Nez Perces never agreed to the cession of their lands, and occupied the army for some months at various times in making them submit. The name given the Nez Perces by the French coureurs de bois is singularly inappropriate, as they do not mutilate their noses, and seem never to have done so as a tribe, whatever may have been the fashion in some branch of their kindred. The Sahaptins, for example, who have given the name to a congeries of tribes including the Nez Perces, are said to have bored the nose in order to carry a nose ornament like the Hindoo women and some tribes of Brazil.
Chief Joseph calls himself Hin-mah-too-yah-lat-kekht, and the tribe is said to use Numepo as their preferred title, though nomenclature among Indians is a parlous thing, many names at the same time and different names at different epochs being the fashion with them individually and in the mass. He is a very high type of Indian as regards brains and courage, but he possesses many of the peculiarities of the savage. His eyes are dull and his features stolid as a rule, but if a bird passes, an animal makes a sound in the bush, an insect comes within earshot or eyesight, something happens in that vacant look. Things that we do not regard have hidden meanings to him, either in connection with the weather, or by reason of superstitions which link certain results with certain appearances, or because the sight of one animal or insect has to do with the presence or the absence of another. The sculptor says that only when some beast, bird, or insect was in sight did the old chief look the warrior and the Indian. When that was gone he relapsed into the apparently unthinking state of an animal, and showed very plainly that to remain in one position while the clay was modelling itself under the artist's fingers was a penance greater than to wait immovable for hours until game revealed itself or an enemy crept in sight.
Chief Joseph belongs to the light-colored Indians. As most people are aware, the native races vary in tint from a brown that approaches the blackness of a negro to a light coffee-color not so dark as many Europeans. The Quichuas of Peru are very black, and the Heidahs of Queen Charlotte and Blackfeet of the Saskatchewan are fair. The Pammas of Brazil are lighter than many Spaniards and Portuguese, while the Iroquois and Algonquin tribes are coppery or light brown. But what is often overlooked is the apparent unimportance of climate on the color of the Indians under the arctic circle or at the equator. Were it not for the broad plaits of hair and absence of beard, giving to Chief Joseph that curious resemblance, in our eyes, to an old woman which we see in so many Indians, the face might be that of a European. As heavy lips, as bent a nose, as high a cheek-bone, may be seen in any crowd of white men. The forehead is good, and the brain cavity ample. In sailors and woodsmen we find the same close-lipped, somewhat saturnine expression.
On the artistic side one may note how Mr. Warner has felt the building up of the cranium and jaw, and how strongly yet subtly he has modelled the texture of the face. From the inscription the marks of quotation might well be spared at the words Joseph and Nez Perce, while the word Indians itself might be criticised as redundant.
Chief Joseph, as we all know, had a claim to the Wallowa Valley in Oregon, dating from the Stevens treaty in 1855, and conceded again to him and his tribe of about 500 Indians in 1873 by General Grant, while the latter was President. Two years later the concession of June 16, 1873, was revoked, and the Wallowa Valley was thrown into the public domain along with all of Oregon west of the Snake River. In 1877 it was determined to remove the Nez Perces from Oregon to the reservation in Idaho, and General Howard reported that they had agreed to go, not willingly, but under constraint. Some whites were killed, and Chief White Bird sent word that he would not remove, whereupon an unequal war began between retreating bands of Nez Perces and companies of United States cavalry, aided by volunteers. The Indians crossed the Yellowstone Park and River, endeavoring to escape into British territory, but were followed closely by Howard, and headed off by General, then Colonel Miles. In the battle that ensued near the mouth of Eagle Creek 6 chiefs and 25 warriors were killed, and 38 men wounded. Two officers and 21 men were killed and 4 officers and 38 men wounded on the side of the pursuers. The whole camp of about 450 men, women, and children fell into Colonel Miles's hands. General Howard reached the battle-field just in time to be present at the surrender.
Chief Joseph conducted this retreat with very extraordinary skill. He beat Colonel Gibbon with 15 officers, 146 troopers, and 34 volunteers, though with much loss of men. He stampeded General Howard's horses and pack-train, fought Colonel Sturgis on the Yellowstone River, losing many horses, and came very near making good his retreat to British America. Of this campaign General Sherman has said: "The Indians throughout displayed a courage and skill that elicited universal praise; they abstained from scalping; let captive women go free; did not commit indiscriminate murder of peaceful families, which is usual; and fought with almost scientific skill, using advance and rear guards, skirmish lines, and field fortifications." These facts only make harder the fate that awaited them, for it shows that no forbearance, no bravery and generalship, are able to win for Indians justice. The right of the Nez Perces to the Wallowa Valley was perfect, and the killing of four white men possibly but not certainly by Indians was made the pretext of hunting them down and letting them die of disease at Fort Leavenworth. By neglecting to provide means to prevent tyranny and land-grabbing on the part of its white citizens our government is constantly forced to violate the most solemn treaties, and confess itself unworthy of trust. The weakness and injustice of our dealing with Indians was never shown in a more picturesque and striking example than in our conduct toward this little section of the Nez Perces. It is only fair to say, however, that we have had recent examples in which the government realized that the nation has a duty to perform in protecting Indians against encroachments by white settlers, and the troops were used in a more honorable exploit than hunting down men with whom the nation had broken a solemn compact.
Fishing
Family Fishing
The area offers some great family fishing oppurtunties. From everything from Steel head fishing in the Salmon River. Bass Fishing in the Salmon River and the Snake River. Sturgeon fishing in the Snake River. Trout fishing in the Clearwater river, Salmon River and the Snake river. High mountain lakes in the Gospel Hump Wilderness area and the Seven Devils for trout. But the best Family Fishing would be at Winchester state park in Winchester Lake. The state park offers day use grills and a play area for the little ones. Great place for day trip.
The most popular activity at Winchester Lake is fishing for rainbow trout, which are planted regularly by the Idaho Department of Fish and Game. Fishing for perch, tiger muskie, bass and blue gill is also popular. The lake provides excellent nutrients and supports large populations of all four species. Small boats are allowed; gasoline engines are not.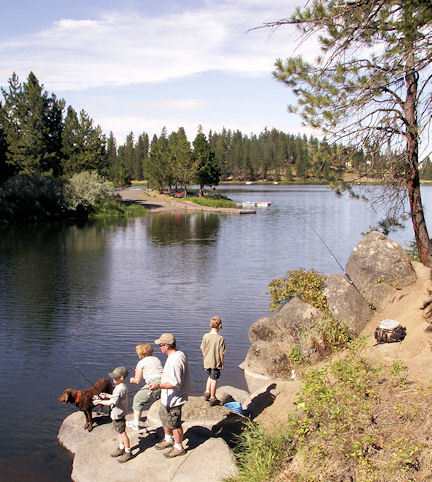 Tolo Lake onthe Camas Prarie is located just minutes from the lodge. The lake was named after a Nez Perce woman who brought news of the outbreak to miners in Florence. Known as Tulekats Chikchamit, her Nez Perce name was corrupted to "Tule" and then "Tolo" by non-Indians. In gratitude for her courage and loyalty, she was the only Nimiipuu given an allotment outside the reservation. She died in 1920, and is buried in Winona, Idaho. The 30-acre Tolo Lake is owned by the Idaho Department of Fish & Game (IDF&G). In September 1994 IDF&G cooperated with The Friends of Tolo Lake to improve sh and wildlife habitat. A century of silt was removed and refashioned into islands for waterfowl. In September, 1994 a worker saw something in the muck—a huge bone! Authorities identi ed it as a Columbian Mammoth. A hasty two-week paleontological recovery of prehistoric mammoth and bison ensued. Work resumed in August 1995, resulting in recovery of three mammoth skeletons and an ancient bison skull. Other fossils were left in place as a preservation measure.
Fishing the Salmon River Idaho
If fishing is one of your main goals we have specialty trips just for you. We have many different opportunities available. We work with the best fishing experts on the river. Lodge at the Whtiebird Summit Lodge with meals the river is just minutes away!

Salmon River Bass fishing: As our water warms throughout the summer the small mouth bass become the sport fish of choice. Our small mouth make up for there size (1 to 4 Lbs.) with their heart, one of the best fighting fish for there size you will find anywhere. If your an avid angler or novice this is great fun to add to your summer vacation. The warm crystal clear water creates ideal conditions for the bass and the angler who is looking to enjoy the beauty of the Salmon River Canyon. This adventure can be combined with rafting and or horseback riding combinations for a complete summer vacation for you or your family, 30 to 40 fish days are normal for most clients.
The Small Mouth Bass fishing is best during the summer months (June through September)
You can choose either Drift Boat or Raft with fishing frame.
Steelhead Fishing
Let us help you hook into one of these Ocean Run Rainbows while taking in the amazing wildlife and scenery of the Salmon River Canyon. We strive to provide the highest quality Idaho steelhead fishing adventures available on the Salmon River. Our guides are professional, experienced fisherman that will give you the best opportunity to safely enjoy the river along with hooking you into that Steelhead or Salmon you have always wanted. Catching Idaho Steelhead is what we live for, let us bring you the dedication and quality you deserve and expect. We have 15 years of experience guiding Idaho fishing trips and Idaho steelhead fishing. Trips for both novice and experienced fishermen, customized to your needs and abilities. Fly fishing is encouraged early in the season.
Our season starts mid September and extends through March, please feel free to call for current conditions.
We work the best fishing guides on the Salmon River to provide the best oppurtunity and experience.
Steelhead fishing, Salmon fishing, Bass fishing on the Salmon River
Rafting, Jet boating, and Fishing activities are booked with permitted and licensed outfitters in the state of Idaho. Fees for rafting, jet boating and fishing activities are to be paid directly to the outfitter operating that trip. If you are paying by a credit card you will see the charges for activities separated and charged by the specific outfitter.
Idaho Rodeo
Weekly events during the summer months in Idaho. You will find a Rodeo some where.
Grangeville Rodeo July 1,2,3 2016
Parade July 2,3,4 2016
Grangeville Border Days is the biggest annual bash of the Cowboy & Rodeo Culture this town has known for over 100 years. It's also Idaho's Oldest Rodeo. This town literally tears at the seams during the Independence Day holidays. LOTS OF food, fun, parades, games, rodeos, friends, family, art shows, pig roasts and more… Held over the 4th of July every year it host a 3 day event. Street games, parade, carnival, dancing and the famous Rodeo.

Whitebird Days Rodeo is over Fathers Day weekend. The rodeo grounds are along the Salmon River with the best Rodeo view in the country. June 17th and June 18th 2016
Riggins Rodeo is over the first weekend in May 7th and May 8th 2016
Winchester days rodeo is over the first weekend in July 4th and 5th 2015
The Lewiston Roundup has been a proud member of the Big 4 Rodeo Association since 1953and one of the PRCA's top rodeos. We host the top cowboys, cowgirls, and world champions! The rodeo is held the second weekend in September
Events Include:
SADDLE BRONC
CALF ROPING
TEAM ROPING
BULL RIDING
BAREBACK RIDING
WILD COW MILKING
OPEN BARREL RACING
Winter Activities
Ride your sleds right out of the lodge on miles of groomed trails. Tranquil trails where you will see very few other people on these trails. Pristine views of the Salmon River basin, Seven Devils and the Gospel Hump. The lodge has plenty of parking for your trailers and easy access off of Highway 95 we are only one mile off the main highway.
Snow shoe out of the lodge on 70 private acres or head onto the adjoining public state property for miles of public land to explore.
Snow haven ski hill has an awesome tube hill and is located just out side Grangeville Idaho.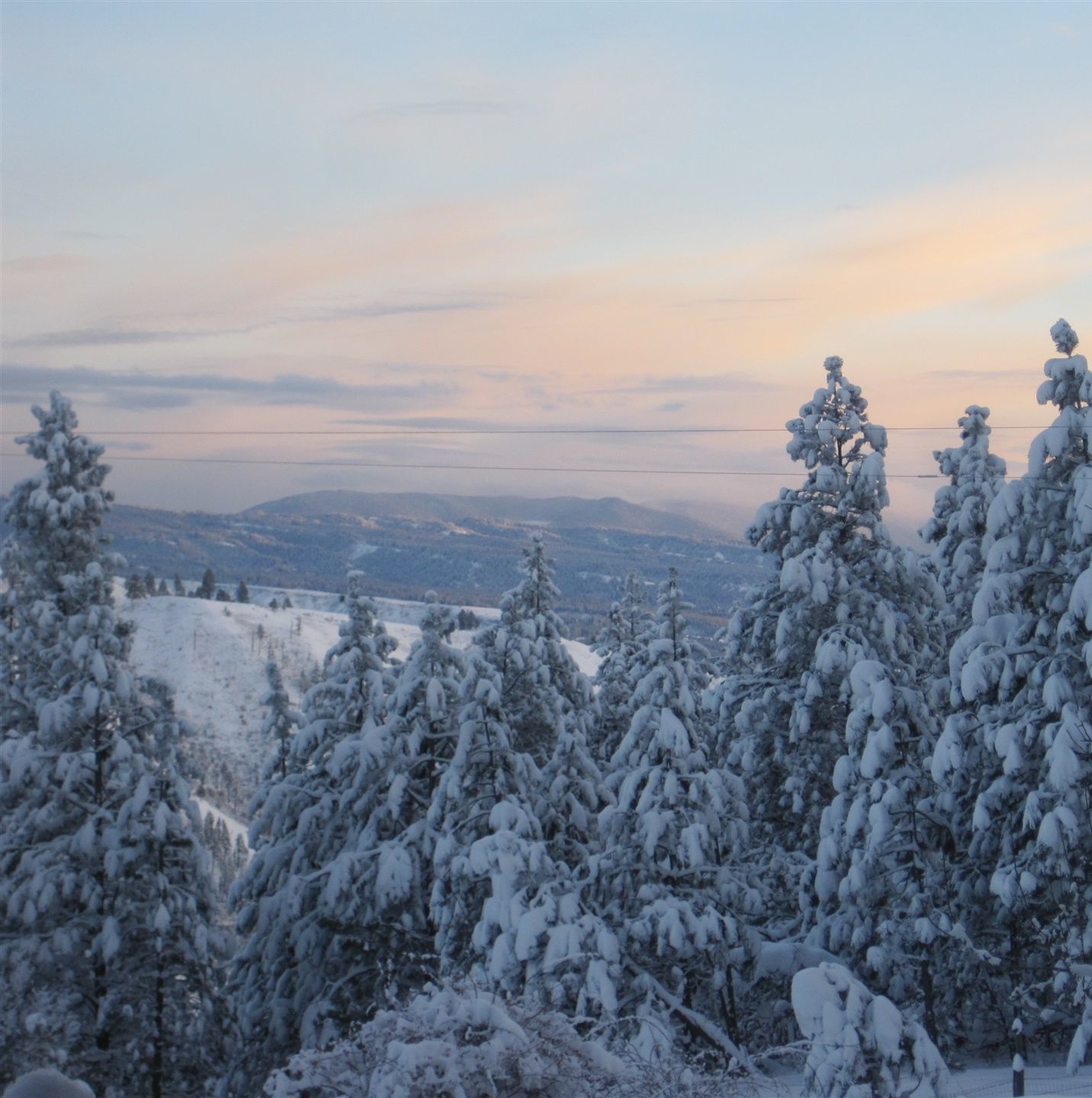 Cross Country skiiing with majestic views of the Salmon River Basin, Seven Devils and the Camas Prarie right at the lodge on our private property. If you are looking for groomed trails, take the short drive to Fish Creek Meadows located right outside Grangeville. Hre you will hace 12 miles of trails and waming huts.

Catch the action on over 200 miles of pristine snowmobile trails just a few miles outside of Grangeville, Idaho.
Milner Area Snowmobile Trail The Milner Trail, which stretches 40 miles to the historic gold mining town of Florence, begins at the Fish Creek Meadows parking lot 7 miles south of Grangeville on Grangeville Salmon Road. This county maintained road is plowed throughout the winter season a few miles past Fish Creek Meadows. Base Elevation: 5000 Elevation: 8000 Prime Season: November-April
Buffalo Hump Corridor Snowmobile Trail The Buffalo Hump Corridor is a section near the Gospel Hump Wilderness that is open to snowmobiling. This is a very remote area where caution and good preparation is suggested. Directions to Trailhead: From Elk City, Idaho (accessed from Grangeville via Hwy 14) head to Orogrande. Prime Season: December-March
Elk City Snowmobile Trails This area of forest has over 350 miles of groomed trails if weather permits. Elevations range from 3000 feet down by rivers to over 6000 ft on ridges and mountains. At Anderson Butte there is a fire tower with magnificent views of wilderness areas. Many experienced riders leave groomed trails and follow marked trail to the top of Anderson Butte and back around by Black Hawk Mountain.
Trail Information: Hwy. 13 to Sally Ann Road outside of Harpster and up to Clearwater Idaho. Groomed trails start at snow level and follow Elk City Wagon Road to Hamby Saddle, where there is a warming shelter. You can travel up to Iron Mountain for a terrific view and then off to Elk Summit or O'Hara Saddle.
Ungroomed trails lead to Fenn Ranger Station and back around to Leitch Creek Road by way of Lookout Butte. The Newsome Creek Road from Hwy. 14 up to Lytle Cow Camp is a nice ride but not groomed.
From O'Hara Saddle you have groomed trails on 464 and 443 and then down Ericson Ridge into Elk City. Another groomed route is located from Elk Summit down through Buffalo Gulch and to the airstrip in Elk City.
Out of Elk City there is a groomed trail out to American River and out 1809 towards Anderson Butte. From Elk City traveling south there are groomed trails out to Red River or to Orogrande. From the top of Mother Lode Road coming out of Elk City there is a trail groomed to Hot Springs Road and then on down to Dixie. For other groomed trail information call Earl Sherrer at 208-842-2557 Base Elevation: 3000 Elevation: 6000 Facilities: Warming Hut Parking Prime Season: November-April
Fish Creek Meadows Nordic Park 'n Ski One mile from Snowhaven, offers 10 miles of groomed, double-tracked cross country ski trails (4 loops of 2 to 7 miles). A ski trail connects with Snowhaven. The Fish Creek Park 'n Ski is maintained by the Clearwater Ranger District of the Nez Perce National Forest. Get your Park-n-Ski Permit in Grangeville at Rae Brothers Sporting Goods on Main Street or online at www.visitidaho.org. For more info about Fish Creek Meadows, Adjacent to Fish Creek Meadows is the trailhead for snowmobilers to ride the old Milner Wagon Road, which once served the gold camps of Buffalo Hump and fabulous Florence in the late 1800′s. Over 100 miles of groomed snowmobile trails are maintained by the Sno-Drifters Snowmobile Club of Grangeville.